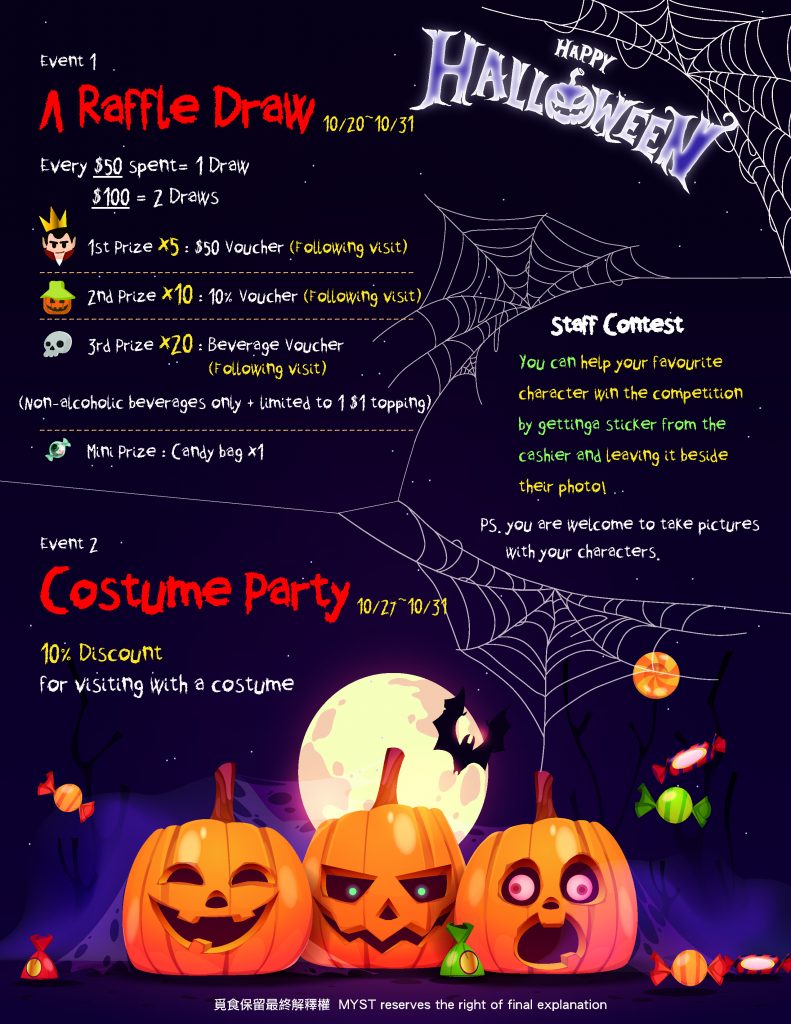 🎃👻 Halloween is here, are you ready to embrace a spooky yet fun time? MYST Asian Fusion is about to launch a series of exciting Halloween activities that you won't want to miss! 🎃👻
🗓 Event Dates: 10/20 (Fri) ~ 10/31 (Tue)
👻 Event Highlights 👻
1️⃣ Surprise with Every Purchase: When your bill reaches $50, you'll have the chance to participate in a lucky draw. Spend $100 or more, and you can enter twice, with more chances as you spend more! Exciting prizes await, including 💰 $50 cash vouchers, 🛍️ 10% discount vouchers, 🍹 beverage redemption coupons, and delightful 🍬 assorted candies! No matter who you are, there are surprises in store for you!
2️⃣ Halloween Special: From 10/27 (Fri) to 10/31 (Tue), if you and your friends come dressed in Halloween-themed costumes, you'll enjoy a 10% discount on your entire table! It's a great opportunity to spend time with friends and family, so remember to dress up and get into the Halloween spirit! 🧛‍♂️🧟‍♀️🧙‍♀️
3️⃣ MYST Asian Fusion Server Costume Contest: Special event alert! From 10/27 (Fri) to 10/31 (Tue), our servers will transform into the most impressive Halloween characters and provide you with the warmest service. You can also participate in the Server Costume Contest by picking up stickers at the counter and voting for your favorite server. Feel free to take photos with your favorite costumed characters and create lasting memories! 📸
Whether you're here for the food, the chance to win, or the exciting Server Costume Contest, MYST Asian Fusion can't wait to welcome you and celebrate this special Halloween together! 🎉👹
Be sure to mark the dates on your calendar because this will be an unforgettable Halloween experience. 📅
#HalloweenEvent ​#DontMissOut #LotsOfSurprises #ScareAlert #SpookyCostumes #MonstersOnTheLoose #Halloween_is_here_and_its_time_to_be_boldly_scary!