Taiwanese Fusion Cuisine.
To explore the new foodie world.
The dining space and accompanying lounge bar at MYST were very carefully designed to bring together the three key elements of contemporary décor, cutting edge style, and modern Asian cuisine. A Taiwanese restaurant located in the heart of Vancouver, the ambience at MYST communicates a feeling of urbanism and stylish luxury.
To complete the MYST experience for our Vancouver and Burnaby customers, our Asian fusion cuisine is artfully prepared to heighten each diner's sensations. Our menu items are creative and accompanied by a wide selection of artisanal beverages and fancy cocktails on par with the fare served at some of the most elegant restaurants in the world.
MYST allows diners to enjoy the ultimate of luxury.
Myst is always excited to share with you regarding our latest update, promotions and surprises!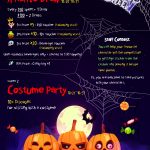 Uncategorized
🎃👻 Halloween is here, are you ready to embrace a spooky yet fun time? MYST Asian Fusion is about to launch a series of exciting
View →